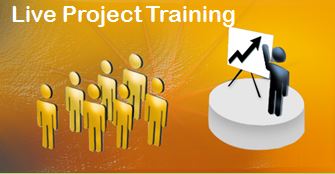 If you are a student of BE/B.Tech / MCA and want to complete your industrial project or simply want to gain experience in making a live project, this course is ideal choice for you.
In this course we offer you Live Project Training where you develop a project under the guidance of our experienced IT industry faculty and IT professionals. You are guided on each phase of Software Life Cycle development (SDLC) .
You can show this project to your colleges and you can also use the link of this project in your resume to impress the companies you appear for interview.
Course Overview
We offer real time live project training to the students of BE / BTech / MCA/ BCA etc.You are given a live client project which you develop under the guidance of seasoned IT professionals using ASP.NET & MS SQL.
Practical live training on ASP.NET & MS SQL
Learn Software development life cycle
Show your live project in a hosted environment
Get recommended for your exemplary performance
Course Duration & Fee
• Project duration : 2 months
• Course Fee : Please call our office
Successful Completion & Recommendation
Each candidate who satisfactorily completes their projects is awarded a certificate of completion. Dishaa Pro recognizes your strength as a software developer and recommends you as a ready to deploy resource in the IT industry.
Dishaa Pro issues a highly prestigious recommendation certificate which can be used to get a job in the software industry. You are also given a personalized web url which you can put a link in your resume. Employers can click on this link and verify your credentials and recommendation certificate.