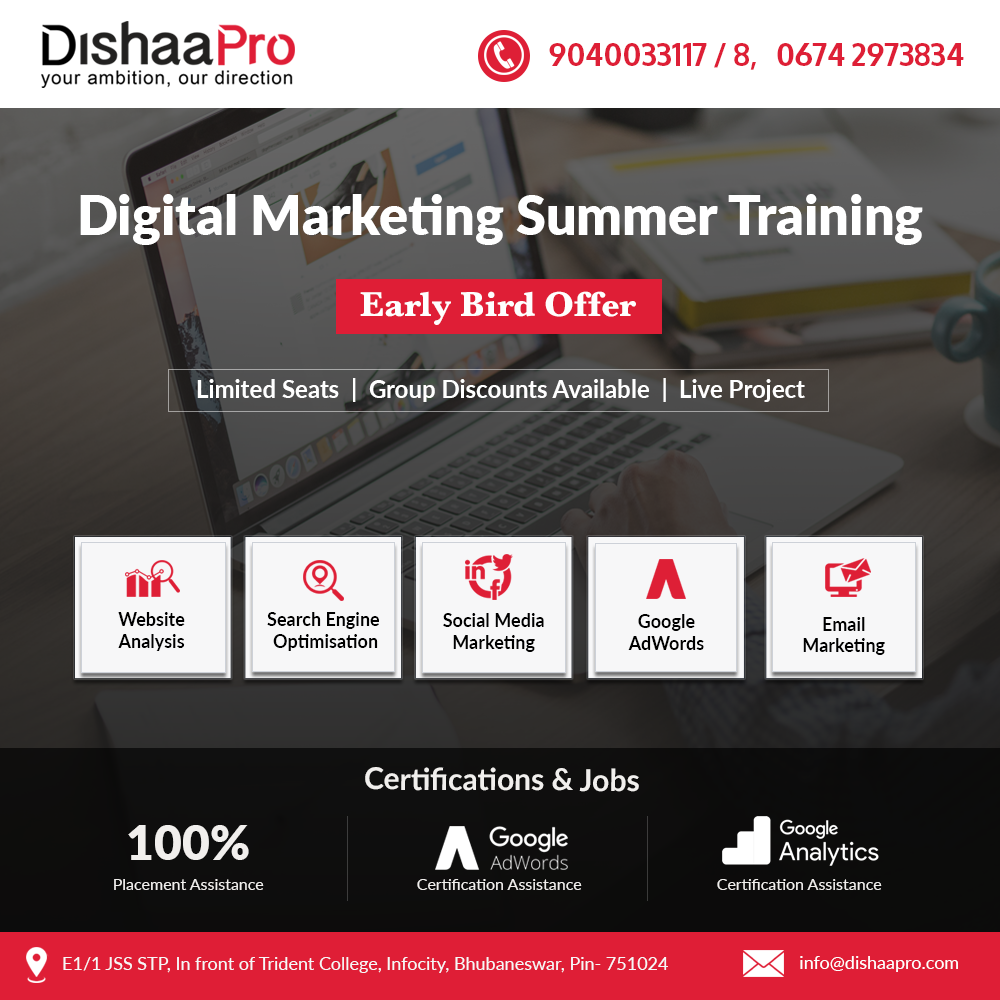 This summer 🌞, it's time for ODISHA to be DIGITALIZED.
Join DishaaPro & Be a advanced and smart Digital Marketer!
Get to know the latest digital marketing trends of 2018 and take your business to a new level.
WhatsApp 🔜 https://goo.gl/ujssdn
Website 🔜 https://goo.gl/pKNohP
📱9040033117/8 , ☎ 0674 2973834
Our training modules:
☑ Website Analysis
☑ Search Engine Optimization(SEO)
☑ Social Media Marketing (SMO, FB, Twitter etc.)
☑ Google AdWords / PPC
☑ Google Webmaster / Search Console
☑ Google Analytics
☑ Email Marketing
☑ Lead Generation Techniques
☑ and More
Who can join our course?
✔ Students and Marketing aspirants interested in digital marketing
✔ Entrepreneurs and Business owners willing to boost revenues
✔ Middle and Senior Level Managers from marketing, e-commerce, sales and strategic planning
✔ IT Managers and Professionals who support various marketing activities.
Objective
What you can do after successful completion of the course?
✅ Do a thorough analysis of a website
✅ Create an effective digital marketing plan for your business or any organization
✅ Design content strategy for online marketing activities
✅ Implement latest techniques to attain a top ranking in Google for specific keywords
✅ Develop, design and implement various advertising campaigns efficiently
✅ Utilize social media and social network for a wider reach
✅ Analyze the performance of your digital campaign
✅ Use the reports for business decision making
Certification:
Interested candidates can also attain certifications in
✔ Google AdWords Fundamental certification assistance
✔ Google analytics certification assistance  and More
Other information:
✔ Limited Seats
✔ Early bird 2018 Digital Marketing Summer Training Program
✔ Group Discounts Available
✔ Duration: 30 days