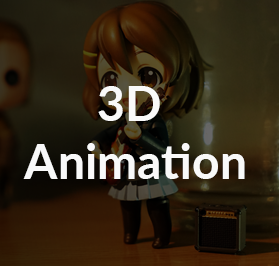 3D Complete Animation Course
Learning Experience That Is Beyond Books and Boundaries
Animation is a dynamic medium where the objects and images are manipulated in such a way that they appear as real and moving images. Our career focused Animation course is specifically designed to teach you the art, techniques and technology that professional animators use to turn their vision into reality. It is our project based and practical oriented learning system that helps our students attain the special skills and gain a royal entry in the animation industry easily. Our program offers training in every vertical of the animation sector and prepares our students for a rewarding career.

Animation Syllabus:
Introduction to Animation

Guidance on visual thinking and design
Fundamentals of drawing
Animation principles
Types of animation

Introduction to Maya software
Reference and Design
Modeling Tools and Workflows
Environmental modeling and composition
Model Cleanup
Creating Your First Character in Maya
Mastering Topology in Maya

Shading and Texturing Fundamentals
UV Mapping
Working on shaders
utility node
Establishing a Texturing Pipeline in Maya

Rigging Fundamentals
Advanced body rigging
Advanced Facial rigging
Advanced maya skinning

Animation Layout and Acting

Start with Layout
Animation Basics
Body Mechanics
Introduction to Acting
Introduction to Advanced Acting
Maya Lighting Fundamentals
Creating Light Rigs in Maya
Fundamentals of Arnold for Maya
Advanced shaders using in maya lighting

Common Effects Techniques
Interactive Clouds and Skies
Explosions with Maya and FumeFX
Maya and Fume FX Dust in Production

Rendering in v-ray
Rendering in mental ray
Rendering in Arnold

Nuke fundamentals
Navigating the timeline, nodes, and Curve Editor
Working with channels
Merging images
Color correcting
Transforming and reformatting images
Rotoscoping
Keying and compositing
Warping and morphing footage
Compositing in 3D
After Effects program layout + basics
Adding layers and working with transform tools
Creating unique shapes with motion
Masks and mask animations
3d layers and animations
3D cameras and camera animations
Working with Photoshop & After Effects
Video FX such as: page turns, fractal noise, color correction
Transitions such as: linear & radial wipes
Exporting with transparency
Exporting for YouTube
Green Screen editing in After Effects

Introduction to Photoshop's Interface
The Photoshop Workspace, Preferences, and Tools
Creating New Images, Resizing, and Adjusting Resolution
Layers, Layer Masks, Blending Modes and Smart Objects
Selections and Channels
Working with Vector Shapes and text
Enhancing, Correcting, and Retouching
Color Correction and Color Changes
Lightening, Darkening and Changing Contrast
Transparency, Opacity, and Image Collages
Noise, Grain, Dust, and Jagged Edges
Retouching and Restoring Digital Images
Filters and Layer Styles Chapter
Text Effects
Distortion Effects
Working with 3D Images
Publishing and File Formats

Insert Your Description Here?
Additional Professionals Work in 
Online promotion
Advertisement
Digitalization
e-learning
Why choose animation as a career?
Huge demand for animators across various sectors
Global job opportunities
Growth in the Indian animation industry is about 75 billion revenue
New Digital Sector of AR/VR/ set to grow at 35% CAGR
Highly paid jobs for creative professionals
100 % Placement Assistance
Modes of Training
Class Room Training

Weekend Experts Training

Online Training

Video Tutorials
Benefits of Joining Our Course

Industry experts as faculty
All our faculty members have an average experience of more than 10 years and are experts in animation.

Hands on Training
Real project experience to get hands directly on what is taught and make conditions as realistic as possible.

Strong Industry Linkage
The course material, tools and techniques are as per industry standards so that the students are prepared to serve varied sectors.
More than 410 production houses like Toonz, Walt Disney, etc. have their operations in India
There is a demand for about 30,000 skilled animators in the year 2018
India is the 2nd largest film producing country in the world
Average salary of an animator is about 4-5 lakhs per annum
Course Duration & Fee
• Project duration :            13Months /52 weeks/624 hours
• Software :                            Autodesk Maya + Photoshop + Nuke + After Effects
• Course fee :                         Call us at 9040033117/8 OR Contact Us
• Payment Terms:              2 Installments
• Payment Mode :               Cash / Check / Online Transfer
• Tutor :                                   Faculty From Dream Creation Studio
• Location :                            JSS STPI Building, Patia
Our Training Center
Bhubaneswar
DishaaPro Trainings Pvt Ltd
E1/1 JSS STP, In front of Trident
College, Infocity,
Bhubaneswar – 751024
Noida
Dishaa Pro Trainings Pvt Ltd
A-126 , Ground Floor,
Sector-63,
Noida – 201301